MACDONALD OPPOSES TORIES' "ANTI-WORKER" LEGISLATION
Wednesday, 11 November 2015 11:12
FALKIRK MSP STANDS UP FOR SCOTLAND'S TRADE UNIONS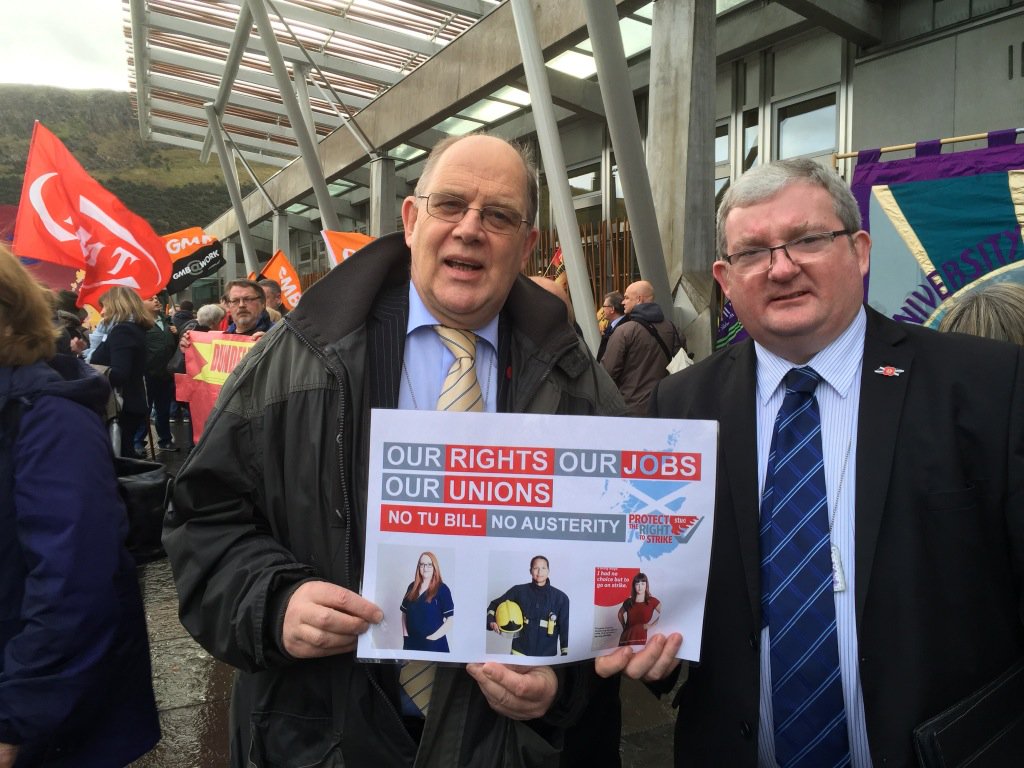 SNP MSP Angus MacDonald (picture above, right) has voted to oppose the UK Government's 'anti-worker' Trade Union Bill – and raised questions over Labour's failure to back the devolution of power over industrial relations to Scotland.
A motion condemning the Trade Union Bill was passed in the Scottish Parliament with support from Labour MSPs, despite the fact that Labour MPs at Westminster voted against an SNP amendment to the Scotland Bill to devolve responsibility for industrial relations and workers' rights to Scotland – and chose instead to leave them under the control of the Tory government.
The Scottish Government has already asked the UK Government to exclude Scotland from the Trade Union Bill in its entirety – and that if they are unwilling to do so, the consent of the Scottish Parliament should be sought before the legislation is imposed on Scotland.
Commenting, MacDonald said:
"I was proud to cast my vote in the Scottish Parliament to stand against the UK Government's Trade Union Bill – and I was delighted to see Labour MSPs joining with the SNP in opposing this outrageous attack on workers' rights.
"The Trade Union Bill is nothing less than an attack on the rights of workers across the UK and hampers the rights of devolved administrations, local authorities and other public bodies to determine their own industrial relations.  That's why it's so vital that Scotland's voice is not ignored – and why these plans should require a consent from the Scottish Parliament before they can be imposed on workers and unions here.
"The SNP proposed plans to devolve powers over industrial relations which would have allowed the Scottish Parliament to take a new and better approach – supporting the work of our unions rather than attacking them. That Labour would rather leave these powers in David Cameron's hands giving him carte blanche to undermine unions in Scotland is as bewildering as it is wrong – and local Labour politicians will have to answer to workers across Falkirk for their decision.
"Trade Unions play a positive and constructive role in our local economy and our society and Trade Unionists and workers across Falkirk can be assured that the I will continue to do everything I can to fight this anti-worker legislation every step of the way."